Healthy Fruit, Vol. 22, No. 15, July 29, 2014
Jon Clements, Editor
---
Contents
Current degree day accumulations
Guest article -- controlling summer mites
The New England Apple Scab Control Practices Survey
---
Current degree day accumulations
UMass Cold Spring Orchard,
Belchertown, MA

28-July, 2014

Base 43 (SkyBit)

2191

Base 50 (NEWA)

1549
---
Upcoming pest events
| | |
| --- | --- |
| Coming events | Degree days (Base 43) |
| Codling moth 2nd flight begins | 1548-2242 |
| Lesser appleworm 2nd flight begins | 1418-2002 |
| Oriental fruit moth 2nd flight subsides | 2062-2556 |
| San Jose scale 2nd flight peak | 2135-2499 |
| Spotted tentiform leafminer 2nd flight subsides | 1987-2365 |
| STLM 2nd gen. tissue feeders present | 1378-2035 |
| Apple maggot 1st oviposition punctures | 1602-2157 |
---
AgRadar
Key insect life cycle and management dates
Note: for 2014, we have four Massachusetts orchard locations subscribed to AR: Belchertown, Groton, Phillipston, and Sutton. The website for looking at AgRadar for these locations is: http://extension.umaine.edu/ipm/programs/apple/pestcasts/
Dogwood borer (DWB) -- first borer egg hatch roughly: June 28. Peak hatch roughly; July 31
Codling moth (CM) -- Codling moth development as of July 29: 2nd generation adult emergence at 33% and 2nd generation egg hatch at 5%. 2nd generation 7% CM egg hatch: July 30, Wednesday = target date for first spray where multiple sprays needed to control 2nd generation CM. 2nd generation 30% CM egg hatch: August 8, Friday - target date where one spray needed to control 2nd generation CM.
Lesser Apple Worm (LAW) -- 2nd LAW flight begins around: July 12, Saturday.
Obliquebanded leafroller (OBLR) -- 1st generation OBLR flight begins around: June 12, Thursday. Early egg hatch and optimum date for initial application of B.t, Delegate, Proclaim, Intrepid, Rimon, Altacor, Belt, Voliam Flexi, pyrethroid or other insecticde effective against OBLR (with follow-up applications as needed); June 27, Friday. Where waiting to sample late instar OBLR larvae to determine need for treament is an option, or to check on results from earlier sprays: Optimum sample date for late instar summer generation OBLR larvae: July 5, Saturday. If first OBLR late instar larvae sample is below threshold, date for confirmation follow-up: July 8, Tuesday.
Oriental fruit moth (OFM) -- 1st generation OFM flight starts: May 9, Friday; 1st generation 55% egg hatch and first treatment date, if needed: June 2, Monday. 2nd generation OFM flight begins around: July 1, Tuesday. Second generation - first treatment date, if needed: July 8, Tuesday. 2nd generation - second treatment date, if needed: July 19, Saturday.
Redbanded Leafoller (RBLR) -- 2nd RBLR flight begins around July 2, Wednesday. Peak catach and approximate start of egg hatch: July 14.
Spotted tentiform leafminer (STLM) -- 2nd STLM flight begins around June 19, Thursday. Rough guess of when 2nd generation sap-feeding mines begins showing: July 7, Monday. Optimum first sampel date for 2nd generation STLM sapfeeding mines is July 13, Sunday. Second optimized sample date for 2nd generation STLM sapfeeding mines, if needed: July 19, Saturday. Third optimized sample date for 2nd generation STLM mines, if needed: July 31, Thursday.
White apple leafhopper (WAL) -- 2nd generation WAL found on apple foliage: August 8, Friday.
Apple Maggot Fly (AMF) -- Rough guess of peak AMF trap captures is: August 2, Saturday.
Preliminary McIntosh Harvest Date Forecasts -- Date to apply ReTain to delay first harvest of apples which without treatment would be ready for storage harvest on September 8 is Monday, August 11. Begin measuring actual McIntosh starch-iodine no later than Friday, August 29. The Michigan formula estimates that non-spur McIntosh will reach starch index 4.0 and start the optimum harvest window for long-term storage on Wednesday, September 10. Using the Hudson Valley, NY formula, McIntosh maturity is forecast to reach starch index 6.0 in Belchertown, MA on Friday, September 26.
---
The way I see it
Jon Clements
It's time to start thinking about harvest. First, early peaches are ripening. Michigan State University has developed a formula for predicting the onset of Redhaven peach harvest - for Belchertown, MA it predicts it to be Saturday, August 9 this year. For comparison, last year (2013) it was predicted to be Augsut 6, and for 2012 it was July 29. So, that suggests about an on-time onset of Redhaven peach harvest.
Similarly, there are formula(s) for predicting the progress of McIntosh harvest. I use the Cornell formula for predicting the last acceptable day for picking McIntosh apples for putting in CA harvest (starch index of 5-6). For this year, it is Wednesday, September 24 (using the Central NY formula). Last year it was also 9/24 and in 2012 it was (gulp!) September 10. (Close, but I believe it went on for a little longer than that. Just a reminder how early the 2012 season was.) Also note the AgRadar prediction(s) for McIntosh harvest and when to apply ReTain above. All jive pretty well. I always say the McIntosh harvest lasts three weeks, so if we take September 24-26 as the "end," then go back three weeks, harvest will commence Septmber 5 or so. Seems a bit early, but Labor Day is as early as it can get this year. No doubt we'll be picking Macs after Labor Day because of customer demand. Hopefully the seasonally coolish weather will continue and they will be ready.
I got a couple calls last week complaining of poor control of mites after miticide(s) have been applied. Please note the very good guest article below on controlling mites with summer sprays.
---
Insects
Jon Clements
See Upcoming Pest Events, AgRadar, and Guest Article below for current pest status.
---
Horticulture
Don't forget to take leaf samples for nutrient analysis -- each and every block by variety should be sampled every few years (within reason). You can't possibly put together a good nutrient program without leaf analysis results every few years. Forms and more information from the UMass Soil and Plant Tissue Testing Laboratory here. JC   
---
Guest Article
Re-visiting summer mite control -- European red mite (ERM) and two-spotted spider mite (TSSM)
Dean Polk, Win Cowgill, Dave Schmidt, New Jersey Agricultural Experiment Station
Re-printed (with permission and edits by J. Clements) from NJ Fruit Focus Newsletter
Mites have been troublesome in some orchards, a mix of ERM and TSSM observed in North Jersey. (Ditto for Massachusetts, although spotty.)
Key pints to get adequate control of  summer mites in apple:
Different miticides have different properties. Zeal or Envidor take a longer time to work than some other products, so those applications should be evaluated 7-10 days after application, or they should be used for early season and young populations. Mite populations that occur at this time of year usually respond best to fast acting materials that act on adults and immature stages of mites. (Considered "motile" mites.) The faster acting materials materials include Nexter, Portal, Kanemate, and Acramite. Slower acting miticides are usually reserved for early in the season and used on young, emerging red mite populations. These include Apollo, Savey, Agrimek, Zeal and Envidor that work best on immature mite stages and eggs.
When using a miticide during the heat of the season on building populations, adequate foliar coverage is the name of the game. Miticides do not have to be applied dilute to the drip point, but the application does have be thorough enough to cover the tops and bottoms of leaf surfaces in the inner and outer parts of the entire tree. Trees must be pruned annually for spray penetration. You must have adequate airflow from your airblast sprayer to obtain good coverage in large trees in the interior. The use of water sensitive cards or Surround clay will allow you to assess coverage in your trees. And now see next point...
Know your dilute tree row volume -- do you have 100 GPA dwarf tall spindle trees, 300 GPA MM.111's for processing, or 200 GPA M.7? For adequate mite control you need to spray at no less than 2X concentration. For example, for 200 GPA (dilute tree row volume) M.7s, 2X=100GPA as a minimum spray volume to get adequate coverage and good effect from your miticide. See Block-specific Sprayer Calibration Worksheet.
The addition of a spray adjuvant or 1qt. of oil/A often helps with mite control, but make sure to read the label for the specific adjuvants that are permitted. Use recently manufactured materials, and those stored under proper conditions. Problems have been seen when old products that were subjected to poor storage conditions were used in the following seasons. Under high populations and no predators, alternate middle sprays do not work, but full cover (every middle) applications do work. If predatory mites are present at even 0.25 predators per leaf, then it is highly likely that they will help with mite control, and you can use an alternate middle application, then re-check 7 days later to see if you need further treatments. Do not use a single miticide chemistry more than once per season, and do not use any oils or penetrating surfactants (Regulaid, Silwet products) with or close to Captan fungicide applications.
Following is a summary of available miticides.
Product

Active Material

Mode of Action

IRAC Class

Efficacy ERM*

Efficacy TSSM*

Notes

Zeal

etoxazole

Mite growth
regulator

10-10B

3

3

Mostly an ovicide with additional toxicity on early mite stages. Use early and on young populations.

Apollo

clofentazine

Mite growth
regulator

10-10A

3

1

Active on eggs and other immature stages. No activity on adults. Use early on young populations.

Savey, Onager

hexythiazox

Mite growth
regulator

10-10A

3

1

Active on eggs and other immature stages. No activity on adults. Use early on young populations.

Agrimek and similar abamectin products

abamectin

Nerve membrane activity

6

3

2

Breaks down rapidly in sunlight, but absorbed in new growth leaf tissue. Must be used early in season. The use of a spray penetrant is required. Do not mix with any sticker adjuvant.

Envidor

spirodiclofen

Lipid synthesis, mite, endocrine disrupter, mite growth regulator

23

3

3

Affects multiple stages including adults, but slow acting. Most effect on juveniles. Do not mix with oil. Not to be used as a quick knockdown material.

Acramite

bifenazate

Neuronal inhibitor but unknown mode of action

Un

3

3

Used against motile forms with some ovicidal activity. No rust mite activity.

Nexter

pyridaben

Blocks cellular respiration, METI inhibitor, complex 1

21A

3

3

Contact knockdown miticide effective on all motile stages.

Portal

fenpyroximate

Blocks cellular respiration, METI inhibitor, complex 1

21A

3

3

Contact knockdown miticide effective on all motile stages. Effective on juveniles and adults. Some effect on eggs. Wetting agents suggested. Do not use dormant oil.

Kanemite

acequinocyl

Blocks cellular respiration, METI inhibitor, complex III

20B

3

3

Similar to the 21A materials but active at a different cellular site. Effective on juveniles and adults. Some effect on eggs.

Older material but long lasting. Resistant populations may still exist. No ovicidal activity.

Vendex

fenbutatin oxide

Organo tin compound. Interferes with energy metabolism and ATP synthesis.

12B

1+

2+

Older material but long lasting. Resistant populations may still exist. No ovicidal activity.

Carzol

formetanate
hydrochloride

Carbamate, acetylcholinesterase inhibiter, affects nerve system.

1A

Older contact material, fairly short lived. Do not apply after petal fall.

Danitol

fenpropathrin

3

1+

--

Vydate

oxamyl

1A

2

2+
*From Table 7.1.2, page 72, 2014 New England Tree Fruit Management Guide. 3 = good, 2+ = fair-good, 2 = fair, 1+ = poor-fair, 1 = poor, 0 = little or no effect
---
The New England Apple Scab Control Practices Survey
You are invited to participate in a research project about your scab management practices.  This survey is part of a larger research project being conducted in New England with Dan Cooley, Arthur Tuttle, and Jon Clements at the University of Massachusetts, Cheryl Smith, Bill MacHardy, George Hamilton at the University of New Hampshire, and Glen Koehler and Renae Moran at the University of Maine.  The purpose of this survey is to collect information on changes that have occurred in the last two years in grower practices for scab control.  Your previous responses have helped Extension specialists develop tools for apple growers to manage apple scab.  We are conducting this research project in New England states, and will summarize the results in a report for growers this summer.
This is a follow-up survey to the one that was sent two years ago.  It has the same 10 questions and will take approximately 7 minutes of your time. 
Here is a link to the survey:

https://www.surveymonkey.com/s/CTSQGTY 
Thanks for your participation!
---
Facebook Me
Follow me (jmcextman) on FB: https://www.facebook.com/jmcextman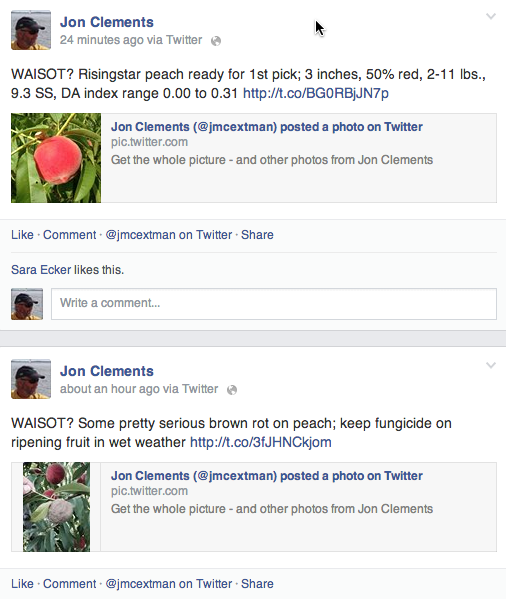 ---
Useful links
UMass Fruit Advisor: http://umassfruit.com

Scaffolds Fruit Journal: http://www.nysaes.cornell.edu/ent/scafolds/

Network for Environment and Weather Applications (NEWA): http://newa.cornell.edu

Dr. David Rosenberger's Plant Pathology at the Hudson Valley Lab (including his 2014 Blog)
Follow me on Twitter (http://twitter.com/jmcextman) and Facebook (http://www.facebook.com/jmcextman)

UMass Vegetable & Fruit IPM Network (on Facebook, http://www.facebook.com/umassipmteam)

---
The next Healthy Fruit will be published on Tuesday, August 12, or thereabouts, 2014. (In two weeks.) As always feel free to get in touch with any member of the UMass Fruit Team (http://extension.umass.edu/fruitadvisor/team-members) if you have questions or comments.