Healthy Fruit, Vol. 23, No. 18, September 8, 2015
Jon Clements, Author (unless otherwise noted) and Editor
---
Contents
The way I see it and apple maturity report
---
Upcoming meetings
New England Vegetable & Fruit Conference, December 15-17, 2015, Radisson Hotel - The Center of New Hampshire, Manchester, NH. http://www.newenglandvfc.org
For more information and updates, see Upcoming Events or contact Jon Clements, 413-478-7219.
---
The way I see it and apple maturity report
As I am sure you are seeing too, it's hard to stay caught up this time of the year. Apple maturity with the recent heat has accelerated, unfortunately, red color has not. I expect, however, color to improve rapidly with cooler temperatures and apple maturity will move along quite fast. Harvest should be in very full swing, and although pre-harvest drop has not been too bad yet, I expect drop-prone fruit (like non-ReTain McIntosh) will start dropping in earnest real soon. In fact, McIntosh w/o ReTain seem quite loose now. Below are the apples I tested this week, I was kind of surprised Honeycrisp was so far along so that one needs special attention right now. By the middle of next week, a lot of Honeycrisp should have been harvested before they drop! Generalized maturity parameters are: % red color, >50%; firmness, >14 lb.; soluble solids, >12; DA, 0.6 to 0.4 for Honeycrisp and Gala, does not work for McIntosh; starch index, 4-6. All apple maturity data from UMass Orchard, Belchertown, MA unless otherwise noted. JC
date
Cultivar
pre-harvest drop
fruit diameter inches
color % red
firmness lbs
soluble solids
DA Index
starch index
comments
8-September
Rubymac McIntosh
(Deerfield)
nil
3.1
90
15.7
11.1
1.46
5 (4-6)
should be one-picked ASAP, but if can wait (watch drop) sugars might improve in a week
8-September
Lindamac McIntosh
(Deerfield)
few
3.2
75
14.5
11.5
1.74
4 (3.5-4.5)
can be spot picked, but if can wait a week sugars will improve; monitor drop closely
8-September
Brookfield Gala
(Deerfield)
none
3.0
90
20.6
12
0.25
4 (3-6)
mostly ready to pick, very nice Gala strain
8-September
Honeycrisp
(Deerfield)
some
3.3
65
14.7
12
0.27
7.5
most should be picked ASAP, already detecting some ferment; not a good candidate for storage
9-September
Buckeye Gala
none
2.9
95
18.6
11
0.41
4.2 (3-7)
ready to go, but wish sugar was higher, could wait a bit; nice, large fruit
9-September
Silken
nil
2.9
0
16.3
11.7
0.25
5.3 (3-6)
being harvested today
9-September
Lindamac McIntosh
some
3.1
80
15.3
NA
1.77
4.7
ready to begin harvest, rather loose on tree, watch drop
9-September
Honeycrisp
few
3.6
65
14.2
12.4
0.29
7.3 (7-8)
really need to be harvested ASAP assuming there is red color; some ferment detected
9-September
Honeycrisp (Northboro)
very few
3.5
70
15.6
12.3
0.40
7.3 (5-8)
top pick from trees, need to be harvested ASAP based on color, treated with ReTain
---
Insects
Note male and female (laying egg?, lower left) spotted wing drosophila (SWD) on these otherwise sound Fantasia nectarines in an orchard in western MA. Almost all fruit flies observed on these nectarines on 10-September were likely SWD. We believe this is the first confirmed incidence of spotted wing drosophila doing damage to sound stone fruit in an orchard in MA, although we suspect this has been going on for awhile. These nectarines were still quite firm, which concerns me, as the grower was not letting fruit over-ripen on the trees. We have previously (and still do) advised growers keep up with sound fruit harvest of peach and nectarine to avoid SWD infestation, however, as the season progresses and fruit flies become more numerous, this strategy alone may not be enough. Insecticide sprays may be warranted, however, PHI's are an issue. I am afraid if this fruit is harvested, although it may look good at that time, it will result in fruit rot on the sales stand (see picture) and when the customer takes the fruit home. Be advised, no longer are SWD just a problem with berries. For more information including insecticides, see the UMass Spotted Wing Drosophila website. It's getting quite late (most stone fruit have been harvested) but if you want an insecticide recommendation, see this table of insecticides for SWD on stone fruit from Mary Concklin at UConn. (Thanks very much Mary!)
| | |
| --- | --- |
| | |
| SWD male (with wing spots) and female (lower left, laying egg?) on Fantasia nectarine, 10-September, 2015 | Likely SWD damage to Fantasia nectarine |
---
Diseases
Nothing to report this week...
---
Horticulture
Nothing new to report this week...
---
Guest article
No guest article this week...
---
Facebook Me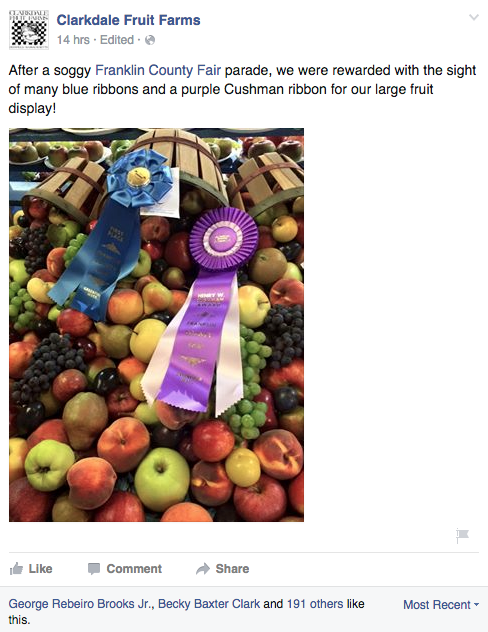 Follow me (jmcextman) on FB: https://www.facebook.com/jmcextman
---
Youtu.be
---
Useful links
Index of Healthy Fruit (2015, 2014)
UMass Fruit Advisor: http://umassfruit.com

Scaffolds Fruit Journal: http://www.nysaes.cornell.edu/ent/scafolds/

Network for Environment and Weather Applications (NEWA): http://newa.cornell.edu
New England Apple Decision Support System maps (experimental)
Ag-Radar

Follow me on Twitter (http://twitter.com/jmcextman) and Facebook (http://www.facebook.com/jmcextman)

UMass Vegetable & Fruit IPM Network (on Facebook, http://www.facebook.com/umassipmteam)

---
The next (and last for 2015) Healthy Fruit-Apple Maturity Report will be published on Tuesday, September 22, or thereabouts, 2015. As always feel free to get in touch with any member of the UMass Fruit Team (http://extension.umass.edu/fruitadvisor/team-members) if you have questions or comments.